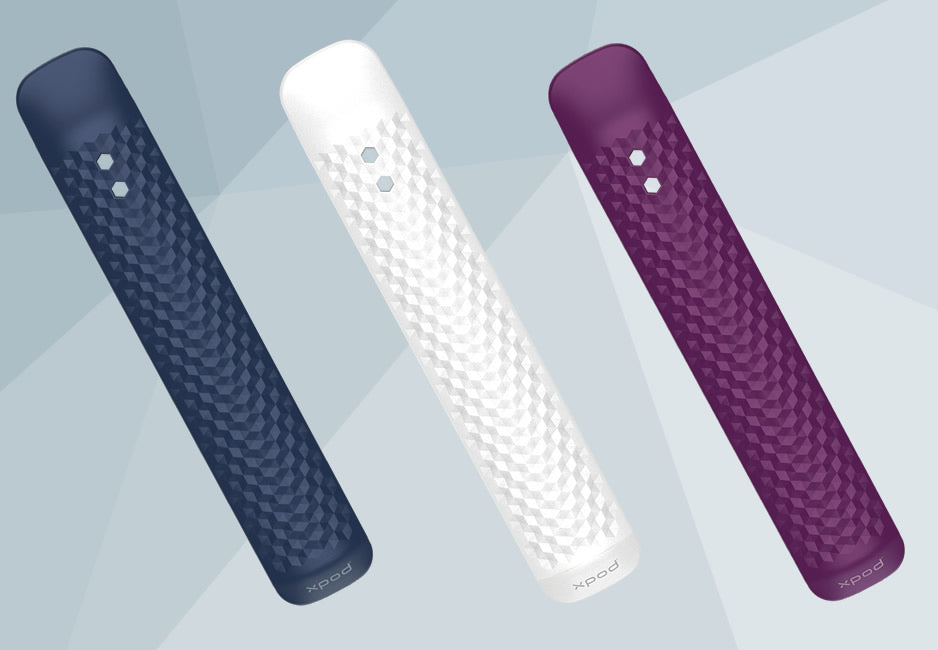 Vape pods are the newest generation of vaping devices. Also called pod systems, pod vapes, and pod mods, these devices are extremely easy to use and maintain. Features such as lower-powered pulls and higher nicotine strengths come together to form a highly portable and super satisfying vape system. Especially if you are a smoker looking to break the habit and switch to vaping but aren't sure what type of e-cigarette will be most suitable, give a pod system a try. A device such as the ePuffer XPOD delivers an experience that's surprisingly similar to smoking in terms of throat hit, simplicity, and satisfaction.
The benefits of pod systems
" As mentioned, vape pods are great for transitioning smokers. That's partly because when you draw on your vape pod, you'll use a direct-to-lung type of inhale, just as you would with a traditional cigarette. "
In addition, vape pods are:
Discreet and easy to use.

 

The higher PG content of the e-liquid used in a vape pod means less vapour and a subtler vaping experience. These devices won't produce massive clouds, so they work well for stealth vaping and are quite popular even with experienced vapers who didn't recently quit smoking.
 
Mess-free.

 

Vape pods don't really have a tank, so to speak, so refilling is easier and cleaner, and they won't leak the way an advanced vape mod can. If your system uses pre-filled pods, refilling it is as simple as removing and discarding the empty pod and replacing it with a new one. Even if you have a refillable device, it's going to be easy to fill and highly leak resistant.
 
Intuitive to use.

 

Vape pods are foolproof. Either they will have a single button that you click to turn the device on and off, or they are draw-activated. A draw-activated model such as the XPOD senses airflow and fires once you inhale from the mouthpiece. This action results in fewer steps for you and a more authentic "smoking" experience, if that's important to you.
 
Ideal for stowing in your pocket.

 

Because they aren't likely to leak, vape pods are suitable to stash in your pocket as you go about your day. These compact devices also take up very little space, unlike larger mods, which can be difficult to fit into a typical pocket (and heavy, too).
 
Long-lasting.

 

Vaping technology has improved by leaps and bounds in the past several years. Even small devices often feature larger batteries that can keep you happily vaping all day without recharging. You can also refill a blank pod several times before having to replace it with a new one.
Closed vs open systems
There are two basic types of pod systems: closed (pre-filled) and open (refillable). Your choice will depend on certain factors, such as your vaping habits and your personal preference.
Closed pod systems:

 

Close pod systems come pre-filled with nicotine salts e-juice. This option is ideal for heavier smokers who smoked around a pack a day or more. That's because nicsalts provide a nearly instant nicotine hit (like smoking) with a pleasant flavour and a smooth, mild throat hit. They're also the most convenient choice – when you're done with a pod, simply take it out, discard it, and pop a fresh one in.
 
Open pod systems:

 

Open kits give you the freedom to fill them with just about vape juice you like. They're best suited to higher-PG liquids, which provide more flavour and a stronger throat hit. Being able to choose your own e-liquid also means that you can choose the nicotine strength you want. If you like the idea of an open pod system but were a heavy smoker, you can still use them – just choose a nicsalt e-juice.
In general, a closed pod system is more convenient to use while an open system is more cost-effective. This is a personal choice, and there's no wrong answer. Feel free to experiment – try a closed system and, when you're ready to play with more options, switch to a refillable kit. In no time, you'll find what you love and be vaping like a pro.