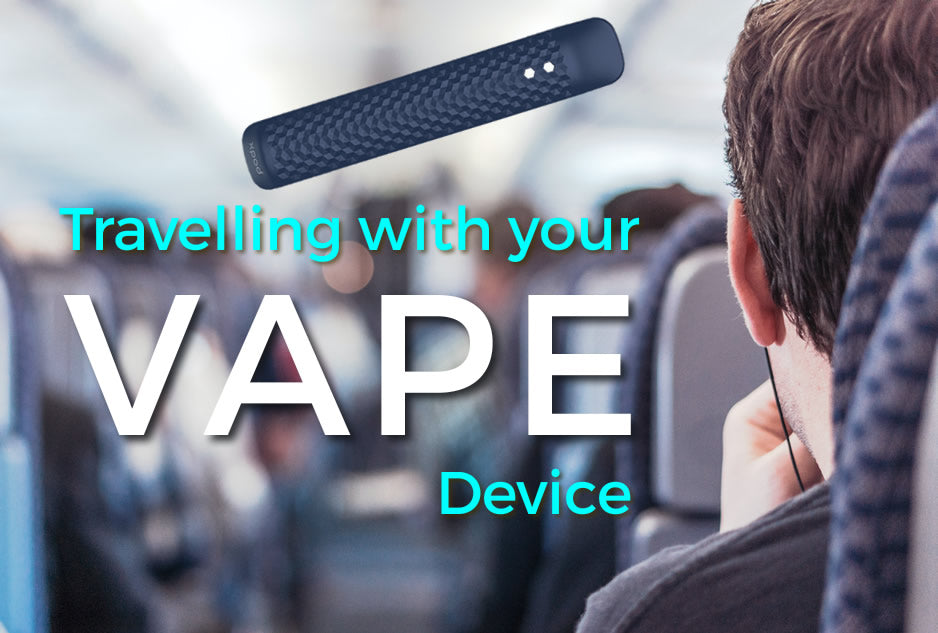 Travel may not be at the forefront of everyone's mind right now, but it will be again soon as more countries open their borders and the population as a whole learns to live fully while taking precautions against COVID-19. If you do have air travel in your upcoming plans, whether for work or for fun, there are certain considerations to take into account – not just staying safe from illness, but also whether you can take your e-cigarette with you on your flight.  If you're travelling out of the country, it's important to check the laws around travelling with a vape at your destination. You should also check with the airline you've chosen to be sure that you understand their regulations. However, here are some general rules you can expect to encounter.
Taking e-cigs on planes
The rules regarding flying with vaping gear are constantly evolving, and they can vary from airport to airport and from airline to airline. Some common restrictions include:
Your vape mod and battery:

 

Expect to be required to keep your device in the cabin with you – not in your checked luggage. You won't be allowed to charge your device on the plane, either. So, make sure it's charged and, preferably, disconnected from clearomisers and tanks.
 
E-liquid and pod refills:

 

You can take along small 10ml bottles of vape juice in your carry-on bag just as you can with other liquids. Be aware that some airports (for example, Hong Kong) don't allow you to travel with e-juice that contains nicotine. If you are travelling outside the UK, be sure to take enough e-liquid to see you through your trip, as the quality and flavour of juices can be pretty iffy in some areas.
 
Tanks and clearomisers:

 

Separate these components from your battery before going through security. Either empty your tank or declare it along with all your other liquids to avoid delays. On that note, you should empty your tank anyway before boarding because the change in air pressure on the plane can cause leaks.
 
Rebuildables:

 

If you do use a complicated vape mod that requires tools to maintain, you may want to make a switch for the duration of your trip, as pliers, coil wire, and other parts and tools in your hand luggage may raise some eyebrows. Consider relying on disposable e-cigs or pod systems while travelling.

Where can you vape?
Whether you can vape in the airport or not depends on the airport. Unfortunately, vaping restrictions in airports seem to be tightening up rather than relaxing. If you aren't sure if/where you can vape, ask – don't assume.
As for vaping on the plane itself, don't. In fact, most airlines have now incorporated specific instructions against vaping in their pre-flight notices. And don't be tempted to try and sneak a hit in the toilet. While vaping is unlikely to set off smoke detectors, it can happen (here's a cautionary tale). Some airlines, such as Qatar Airways, have actually arrested and imprisoned travellers for vaping on their flights. Just like smoking, vaping isn't worth the risk of fines or even jail time for a nicotine hit. Wait until you've landed and you're in an area where vaping is allowed.
Where CAN'T you vape?
Be aware that there are some countries where you cannot vape at all. You will likely run into the tightest restrictions in the Middle East and Southeast Asia. In general, you can expect the highest risk of punishment if caught vaping in these areas:
Vaping banned with potential jail time: Thailand, India, Philippines, Taiwan
 
Vaping banned (including nicotine-free): Argentina, Brazil, Cambodia, Cuba, Dominican Republic, Egypt, Hong Kong, Indonesia, Jordan, Lebanon, Qatar, Mexico, Seychelles, Singapore, Turkey, Uganda, Uruguay, Venezuela, Vietnam
 
Vaping banned (except nicotine free): Australia, Japan, Malaysia, Norway, South Africa

A word about vaping in the US: Restrictions around vaping are not countrywide in the US, so be sure to check the regulations in the specific state to which you're headed.
This is not a comprehensive list – make sure that you take the time to learn the rules and regulations regarding vaping in your destination (every time you travel, as these regulations do tend to change). Most of the time, you can find a way to enjoy your vape safely and legally, even on the go.